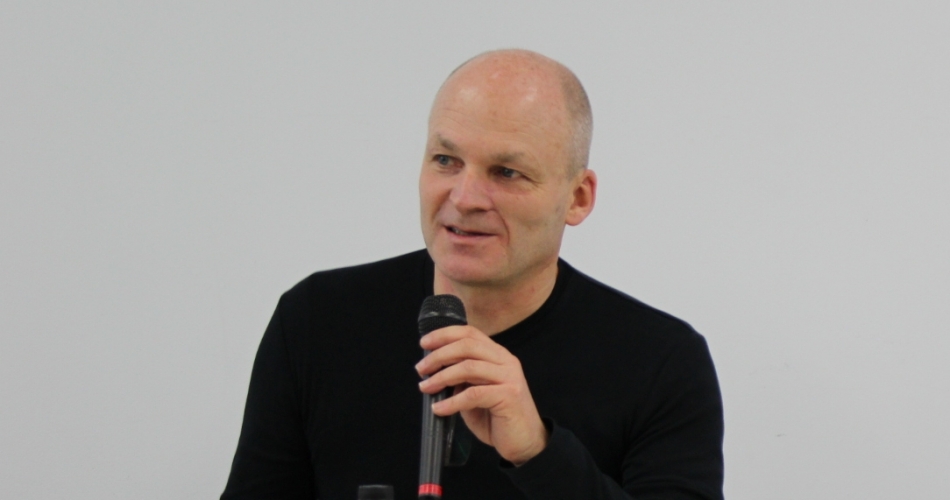 The Lecture of Prof. Lutz Fügener of the University of Pforzheim
Taking the chance of his visit Japan, GK invited Prof. Lutz Fügener of the University of Pforzheim and a juror of RED-DOT-Design-Award, we held his P-room seminar.
Prof. gave us a lecture covering his overall view about our ultimate way of mobility not only of automobiles as hinted by the opening "END OF THE STRAIGHT." Prof.'s talk started with the situation of automobile industries facing drastic turning point and stretching over the most paid attention portrayal of customers in the coming digital gadget era and automated driving by AI. The seminar became very impressive one on the vision he told that designers should treasure the awareness of creating the future of selves.
Profile/Vita
Lutz Fügener completed a basic study in general mechanical engineering at the Dresden University of Technology (from 1987-1989); from 1989 a degree in industrial design at the College of Art and Design, Burg Giebichenstein, in Halle an der Saale.
After completing his studies in 1995, Lutz Fügener became junior partner of the Fisch & Vogel Design office in Berlin (today: studioFT). The office specializes in the processing of design projects in the field of road vehicles and rail vehicles. Since 1997, Lutz Fügener has been senior partner and equal co-owner of the office.
In 2000, he was appointed to a professorship for Transportation Design / 3d Design by the University of Pforzheim and is head of the Bachelor's Degree in Transportation Design.
Since 2009 Lutz Fügener has been a permanent member of the jury of the RED-DOT-Design-Award for product design (Essen, Germany) for the category Vehicles, since 2013 permanent member of the jury of the RED-DOT-Concept-Design-Award (Singapore) Lutz Fügener is an author and journalist for various daily newspapers, weekly magazines, periodicals and blogs and writes about topics related to mobility.